Hello dear, I hope, I am not confusing you by writing, but though I technically can´t follow your blog, I take a look regularly, because your stile is so very awesome! May I ask, how you learned to sketch (by yourself, in school, in university or so)? And what kind of equipment do you prefer? I have to admit, that I find your sense of humour amazing! Pityfully I am not into french ... I hope you have a nice day and are not so very sad about the lost of your dog anymore!
Asked by miaschwarz
First of all, THANKZ for all your nice words *BLUSH*
SEGUNDO. How did I learn to sketch…?
Well, I've started very early. I was 2 yo. loloolololol.
It's because of this little fellow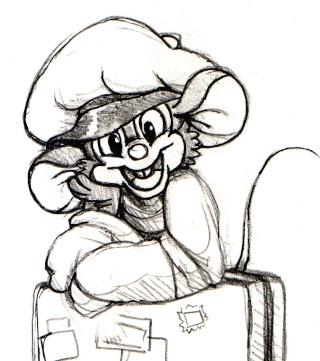 I used to watch "An American Tail" 5932 per dayz…
Then I started to draw mice everywhere (paper, walls, floor, hands, parents' books…)
My father was a painter and always support my passion. THAT HELPs A LOT
YEP. Generally, I've learned to draw by myself.
Always inspired by many talented people like my best friend <3 http://m16tronaz.tumblr.com/
by animation (Disney, Don Bluth, Ghibli…), comic books (Black Sad, Freaks' Squeele…), mangas (Fruit basket LOLOKAYSORRY), videogames (Portal, Silent Hill, pokémon…)

EVERYTHING IS A SOURCE OF INSPIRATION. Especially John's dick.



TERCERO. I loOooOoOove the equipement I've got in my office LOL… Huge graphic tablet, Photoshop CS5 and MAC <3 (my own equipement at home sucks. fuu.)
I draw "traditionally" sometimes. With a pen criterium.
sorry my english sucks so much. JE M'EXCUSE…